1/144 Scale Submarines
Modified Trumpeter Gato to Fleet Snorkel









Modified Trumpeter Early Gato
Model displaying IBS 1/144 4"/50 cal deck gun.













USS Sea Cat built by submarine modeler Frank Cinetti using the Trumpeter 1/144 scale Gato and parts from IBS.










USS Sennet: Built by modeler Ryan Labieniec. Ryan converted a 1/144 late Gato to the Fleet Snorkel USS Sennet.






USS Tusk: Built by modeler Kenneth LaPointe. Kenneth shares with us his build of the early fleet snorkel PM USS Tusk conversion.







1/72 Scale Submarines
HMCS Rainbow 1/72nd scale build by Ryan Cameron.



USS Sea Poacher 1/72 built by Bob Henry, USN Ret. He converted the model from a RevellŽ 1/72 Scale Gato and used the IBS USS Torsk PM sail kit.

















USS Remora: 1/72 scale built by: Gary Hansen USN Ret. Gary was kind enough to share his newly converted Revell submarine to the USS Remora using IBS parts.







RC Baya Conversion: IBS re-fit with the new IBS short Balao style III conning tower. Two IBS 5" 25. cal deck guns. Sub body and bofors by Scale ShipyardŽ.











S-Boat: Built from Combat Model's vacuum formed kit. Fittings and deck gun are made by IBS.






USS Ronquil: AKA USS Tiger Fish "Ice Station Zebra" Modeler: Chris Porter. Chris built this beautiful model of the USS Ronquil portrayed as she appeared for the filming of the movie Ice Station Zebra. He modified the hull into a Guppy shape and used the IBS Atlantic High Sail. Bravo Chris!




















USS Torsk: 1954 Fleet Snorkel/Gun Slinger. Built by converting a RevellŽ 1/72 Gato kit and using the IBS USS Torsk Gun Slinger PM set.























USS Lizardfish: Fleet Snorkel/Gun Slinger conversion built from converting the RevellŽ 1/72 Gato kit with IBS EB Step Sail Gun Slinger kit.



































Tribute to the USS Ling
The following Long Balao USS Ling was built with the IBS USS Ling set. The submarine was converted from the 1/72nd scale Revell Gato for RC operations.

Phase III (Finalized model circa 1945 USS Ling):











































USS Cobia with IBS 4" Deck Gun/IBS Parts




































USS Cobia circa 1944 with IBS 5" Deck Gun/IBS Parts RC Mod






























USS Puffer circa August 1945 Subic Bay End-of-War Decorations. Tower converted using the IBS cut down Gato converter plug. This is an RC Mod.



































USS Pampanito Conversion: Circa 1945


























USS Grouper Conversion: Circa 1942



































USS Wahoo: Circa August 10, 1942










































1/178 Scale Submarines
USS Bashaw SS 241 W/ SSK sonar. Built by Antonio Guerra.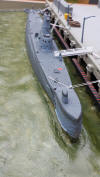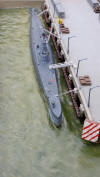 USS Tusk 1963 BQR 3 variant built by Paul H.A. Ooi.








USS Sea Cat built by Frank Cinetti:




Guppy III USS Corporal: Built using the 1/178 RevellŽ Lionfish kit with IBS Guppy III conversion set.












USS Tiru Guppy III 1969 San Francisco Overhaul













USS Cavalla SSK Hunter Killer using our exclusive Cavalla SSK Set









Guppy III USS Trumpetfish hull is extended.









USS Cutless w/ early Limberline and w/out.














Migraine III USS Rock and USS Pompon















Electric Boat Step Sail USS Cochino












The lost submarine USS Lagarto. Diorama: Forever on Patrol.












1/178 Sea Cat by Frank Cinetti:





Contact: ibsinfo@eastcoastarmory.com